inspiring greatness - our vision
"Pegasus vision, is to create the exact equivalent of Land-Rover's original bulkhead"
We have had the opportunity over the years to view an enormous number of different bulkheads and make notes regarding their individual characteristics and the varying details that inevitably occured.
Based on our research, Land-Rover had developed endless combinations of upgrades over a 13 year time-frame, but only two or three part numbers were used.
The most obvious changes were the screw vent controls changing to quadrant type, round heater to flat heater, the double wiper motors changed to single cable drive motor and the angled tie rod brackets to a straight type, but looking through the parts catalogues and viewing vehicles there are approx 40 other changes for the 4-cylinder, civilian specification, bonneted control models only. Then there was the issue of identifiying the other bulkheads like the 6-cylinder, 24-Volt FFR and Forward Control models all of which have their own bulkhead types. The list goes on.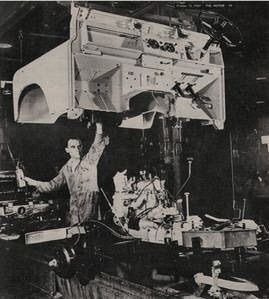 WHAT TYPE OF BULKHEAD IS YOURS?
Pegasus have defied the impossible and researched all the variants on the the year and month your Land-Rover went in to production.
As a result, Pegasus are now on the cusp of making history again by manufacturing totally accurate bulkheads that guarantees your bulkhead will fit your Land-Rover exactly like it did, the day it left the Solihull factory.
Ordering your bulkhead from us, couldn't be easier.
The following 8 types of bulkheads are based on the month and year of when your Land-Rover went into production.
Type 1 - March 1958 to December 1959.
Type 2 - January 1960 to May 1960.
Type 3 - June 1960 to January 1962.
Type 4 - February 1962 to March 1967.
Type 5 - March 1967 to October 1968.
Type 6 - October 1968 to December 1968.
Type 7 - January 1969 to September 1969.
Type 8 - October 1969 onwards.
For identification purposes, go to our SHOP and select the type of bulkhead you require, then simply check the list in the description against your bulkhead.:
If you are unsure of anything, please email some photos to [email protected] or contact us using our form on this website.