Part 2 - Research
Posted on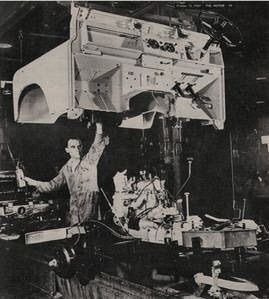 From a trade advert for Alcan, an aluminium alloy supplier to Rover, showing bizarrely a mild steel bulkhead, a Type 2, 4-cylinder civilian version, built about September 1960. The front wings are alloy though!
First thing to do was some research.
We knew manufacturing the bulkheads was technically feasible, it was a case of identifying all the change points and creating the beginning of a list of all the different variants.
Anybody familiar with the Series 2 and 2a bulkhead is probably aware of the most obvious changes that occured: screw vent controls to quadrant type, round heater to flat heater, double wiper motors changed to single cable drive motor, angled tie rod brackets to straight type.
But a cursory look through the parts catalogues and viewing vehicles in the flesh pointed to rather a lot of changes over the 13 year production period. At the last count there are about 40 changes just to the 4-cylinder, civilian specification, bonneted control models only.
Then there was the issue of identifying the other bulkheads, 6-cylinder, 24-volt FFR and Forward Control models, all have their own bulkhead types.
At the last count there are 20 main variants just for Series 2 and 2a models:
8 types of 4-cylinder, civilian models.

3 types of 4-cylinder, 24-volt FFR models.

4 types of 6-cylinder model.

5 types for Forward Control models.
And this does not include any minor detail changes that would probably double the number of bulkhead types that were originally manufactured.